Contact us for lead times
Shipping Dimensions
Length : 304.0 cm
Width : 304.0 cm
Height : 247.0 cm
Weight :
25.0 kg
View full details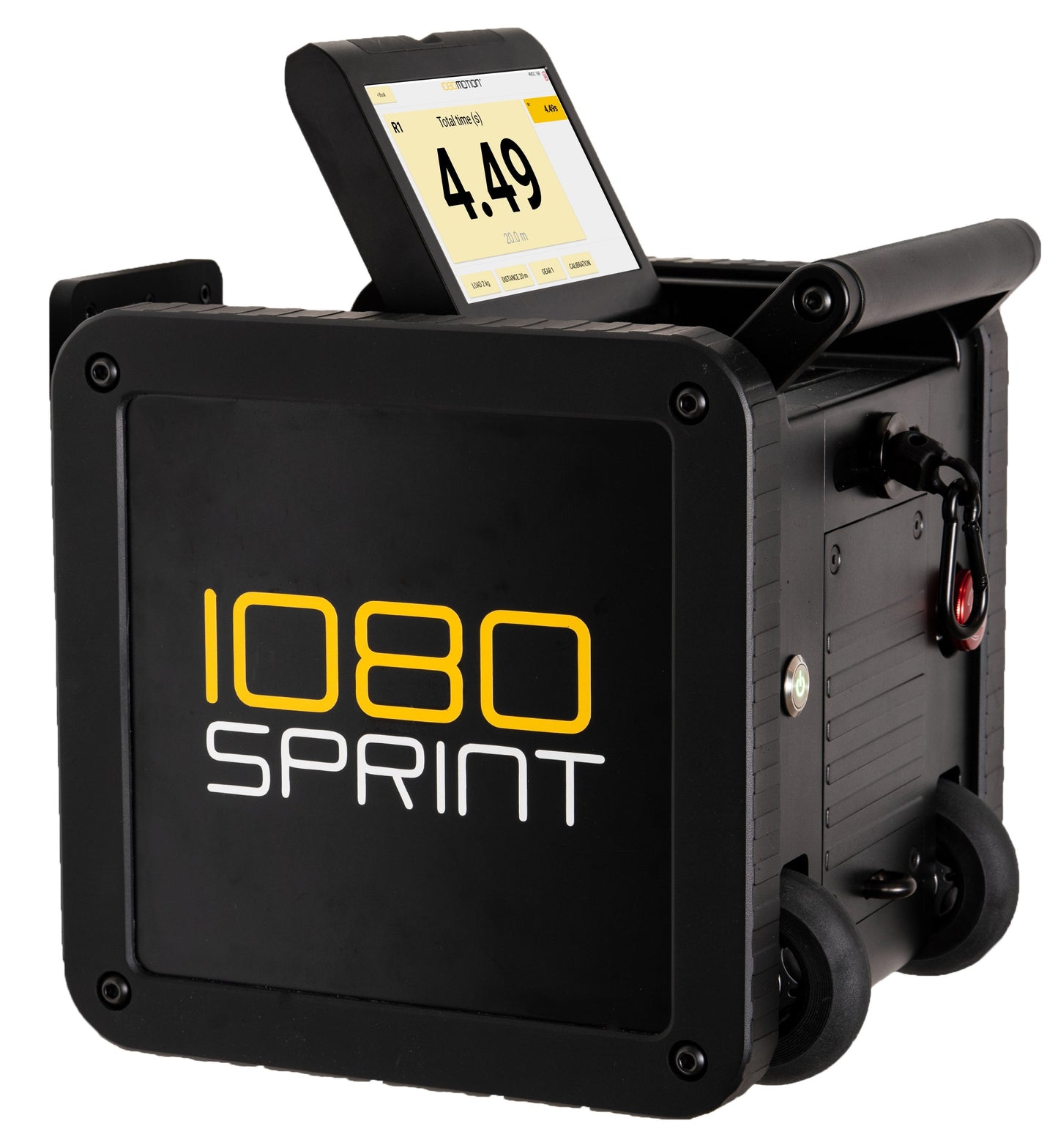 Description
Introducing the 1080 Sprint 2 part of the battery power range. A revolutionary portable sprint training device designed for horizontal resisted or assisted training and testing, including Change-of-Direction movements. This cutting-edge device offers sports coaches, conditioning specialists, athletic trainers, and researchers unparalleled control over both load and speed in the concentric/resisted and eccentric/assisted phases of any movement pattern, making it a foundational tool for human performance enhancement.
Specifications:

Ranges from 90-180 m (98-196 yds) - User choice

Continuous resistance up to 20 kg (44 lbs) in Gear 1 with movements up to 14 m/s (31 mph)

Continuous resistance up to 40 kg (88 lbs) in Gear 2 with movements up to 7 m/s (15.5 mph)

Maximum resistance < 3 seconds up to 70 kg (154 lbs) in Gear 2

Maximum speed of 14 m/s, 50 km/h, 31 mph

Weight without attachments: 25 kg (55 lbs)

Dimensions (LxWxH): 274x304x304 mm

(11x12x12 in)

Data sampling rate: Ranges from 50-1000 hz - User choice

Built-in 40 watt speaker

Wi-fi connected with unique IP address

10.4 inch adjustable touchscreen with 1300 Lumen brightness

41.4 V, 160 W Universal charger with 2m/6 ft cord length

USB-C port interface
Key Features:
Portability and Convenience: The 1080 Sprint 2 is a battery-operated device, providing the ultimate portability for on-the-go training. With a rechargeable 99 Wh battery, it permits hours of use, eliminating the need for a mains socket and enabling training sessions in any environment.

Real-time Performance Data: Experience precise monitoring with the real-time display of essential metrics such as time, distance, speed, force, and power. This accurate data empowers coaches to track athlete performance and make informed decisions for training optimisation.

Versatility: With the capability to reach speeds up to 14 m/s and apply resistance of up to 40 kg during running, as well as isokinetic resistance loads up to 70 kg, the 1080 Sprint 2 is versatile for various training scenarios. It functions as a cable machine for repetition-type exercises, including squats, lifts, rotations, pushes, and pulls, catering to light strength training, rehab, and testing.

Smart Connectivity: The device is WiFi-connected, facilitating seamless data transfer and software updates. This ensures that you stay at the forefront of technology advancements, enhancing the functionality of your 1080 Sprint 2 over time.

Continuous Resistance: Enjoy the benefits of continuous resistance, enabling athletes to adapt and optimise neuromuscular responses to high speeds in a controlled environment. This feature is essential for tailoring over-speed formulas to individual athletes using constant force.

Fast Start-up: With a start-up time of less than 10 seconds, the 1080 Sprint 2 provides instant access to your training regimen, maximising efficiency and minimising downtime.

Extended Range: The device allows training and testing up to an impressive 180m, providing ample space for comprehensive sprinting and Change-of-Direction exercises.

High Data Sampling Rate: With a data sampling rate ranging from 50 to 1000 Hz, the 1080 Sprint 2 ensures that every nuance of performance is captured, allowing for detailed analysis and fine-tuning of training protocols.
The 1080 Sprint 2 offers the ability to set and manipulate load and speed, providing a precise and controlled environment for targeted training and testing. Coaches, researchers, and trainers can develop specific testing and training protocols for athletic development purposes, leading to advanced insights into human performance.
This sprinting device offers reliable and highly accurate data without the need for a mains socket. Its portable design and real-time performance metrics empower coaches to monitor and adapt training programs effectively, providing a solution that aligns with the dynamic needs of modern athletic development.
Free Shipping (Over £999)

Free UK mainland delivery is available on orders over £999. Conditions on delivery timescales currently apply.

Hassle-Free Exchanges

You have 14 days, from receipt of cancellable goods, to notify us if you wish to cancel your order or exchange an item.