SKU: PB1222A
Regular price
Sale price
£397.20
Unit price
per
Sale
Sold out
Shipping Dimensions
Length : 35.0 cm
Width : 15.0 cm
Height : 35.0 cm
Weight :
5.0 kg
View full details
Description
BlazePod triggers your body's natural response to sensory stimulation, enabling superior, fast, and coordinated movement.

Tap-sensitive pods powered by the BlazePod app provide visual cues, creating the ultimate Flash Reflex training system. BlazePod motivates you to react faster, push your limits and boost your performance. Activate a predefined activity or create your own. Challenge yourself or compete against others. Track data in real-time to improve fitness, technique and tactics.
The standard bundle includes the following:
Four Pods
Charging Base and Micro USB Cable
Case
Four Functional Adapters
Four Straps
Four Suction Cups
Four Cone Adapters
BlazePod app (iOS and Android)
Technical specifications:
Up to 40-meter Device-to-Pod range with auto-connection
Powerful RGB LEDs with 8 colour options
Durable and weather-proof for both indoors and out
Smash-proof exterior allows tap outs with your feet, heavy wall balls, boxing gloves and more
Rechargeable Li-ion battery with up to 8 hours of operation on a single charge
Space-saving Smart Stack & Charge Bluetooth Low Energy (BLE) communication with immediate smartphone pairing and up to 40-meter device-to-pod range
Dimensions – 30cm x 30cm x 15cm
Weight – 5kg
BlazePods are used to motivate athletes and clients in many fields. PE teachers are able to motivate through competitive activities, sports coaches are elevating their athletes' speed, reactions and spatial awareness, creating faster, more precise decision-making, physios are able to motivate their clients at all levels of rehabilitation, through controlled, progressive activities and testing. Neurologists have the perfect tool for aiding neurological deficiencies, working on peripheral vision, concentration and selective reactions through focus logic activities and fitness clubs are using BlazePod in daily workout sessions for all levels and ages, both indoors and out.
Free Shipping (Over £999)

Free UK mainland delivery is available on orders over £999. Conditions on delivery timescales currently apply.

Hassle-Free Exchanges

You have 14 days, from receipt of cancellable goods, to notify us if you wish to cancel your order or exchange an item.
Frequently Asked Questions
How does Firefly work?

Firefly uses small electrical pulses to stimulate the peroneal nerve (a nerve in your leg). This increases full-body blood flow. That means more fresh blood and oxygen to reduce lactic acid and soreness, eliminate toxins, and keep muscles flexible.
When and how long should I wear the Firefly devices?

Recommended usage will optimise recovery so you can train harder and perform better. Firefly Recovery is used for warm up (30-60 minutes) post workout recovery (1-4 hours) and travel (duration of travel).
Should I use Firefly during training or working out?

No, it is not recommended to use Firefly during training or a workout. However, as Firefly is a portable device, it can be used when walking, stretching or on-the-go.
Can I use Firefly for upper body recovery?

Absolutely. Since Firefly increases blood flow throughout your entire body, it always functions as a full-body recovery device.
Do I need a knee strap?

We recommend getting the Knee Straps.

The Knee Strap keeps Firefly securely in place whether you are resting or in motion. Additionally, as the gel-based backing on Firefly devices may become less adhesive after multiple uses, the knee strap will help to ensure proper stimulation from the device.

You can get the knee straps here.
How do I use Firefly?

Firefly Recovery is used for warm up (30-60 minutes), post workout recovery (2-4 hours), and travel (duration of travel).

Simply apply Firefly to the correct location on your peroneal nerve and turn the device on.
How do I use Firefly?

Firefly Recovery is used for warm up (30-60 minutes), post workout recovery (2-4 hours), and travel (duration of travel).

Simply apply Firefly to the correct location on your peroneal nerve and turn the device on.
How long does Firefly last?

When used as recommended, the Firefly device has a 30 hour battery life. The number of uses will depend on the length of each recovery session (average session is 1-4 hours). Afterwards, the battery is not rechargeable, it can be removed and recycled like any household battery.
Is the Firefly device painful to use?

The Firefly device should not be painful. You will feel muscles in the lower leg contract every second, which causes your foot to twitch (Firefly flutter). It may take a few moments to adjust to the sensation, but the movement is critical to increasing blood flow and recovery. if the sensation is too strong, decrease the level.
How does the Firefly device differ from muscle stim?

The Firefly is a modified NMES that stimulates a nerve vs. a muscle, it is not a muscle stim or TENS unit. Stimulating the peroneal nerve causes muscles to contract and to increase blood flow. Stimulating a muscle (with traditional NMES) for extended periods of time can cause muscle fatigue. The Firefly safely avoids muscle fatigue that can be caused by TENS.
Who should not use the Firefly device?

Individuals with pacemakers and recently diagnosed DVT should not use the Firefly. Instructions accompany the device and offer a full list of contraindications, warnings and precautions.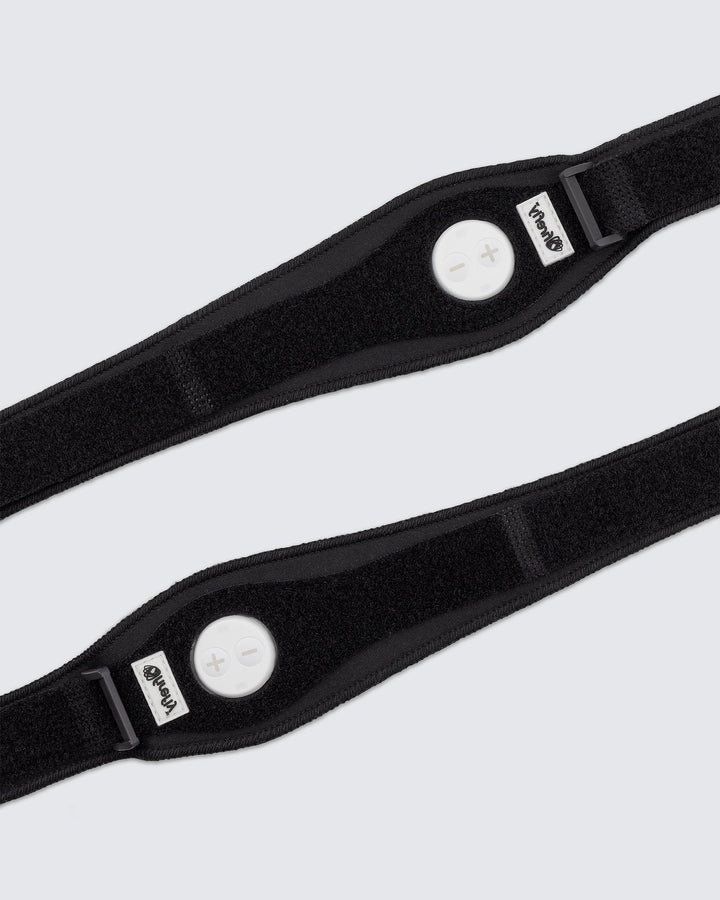 Firefly Knee Straps
The Firefly Knee Straps, an essential companion for maximising the benefits of Firefly Recovery devices. This specially designed knee straps are highly recommended for ensuring optimal recovery.
Discover The Knee Straps