Shipping Dimensions
Length : 40.0 cm
Width : 7.8 cm
Height : 22.5 cm
Weight :
5.0 kg
View full details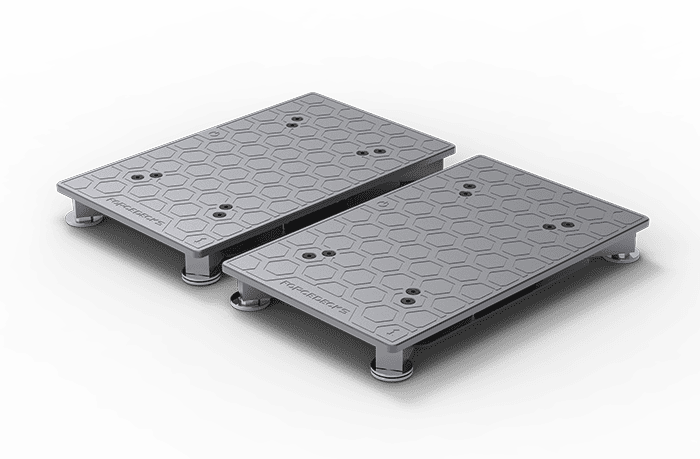 Description
The FDMinis are affordable, portable and compact. Ideal for quick, in-clinic assessments, such as balance and squat assessments. The FDMini fits in a small carry case for quick set-up and pack-away, whether it's used in-clinic or for home consultations.
ForceDecks force platform technology gives a much deeper insight into the traditional methods used to profile athletic performance, such as a squat, drop jump or counter-movement jump (CMJ).
Platform dimensions (per plate): 400mm (L) x 225mm (W) x 78mm (H).
Weight (per plate) 5kg
Previously, force plates were limited to laboratories and elite sporting teams.
Now, ForceDecks' lightweight, portable, affordable force plates can provide you with objective data on strength and imbalance. Whether you want to measure force outputs to track strength gains or treat musculoskeletal or sports conditions, ForceDecks allow you to monitor rehabilitation progress, injury risk, collect baseline data and improve outcomes.
ForceDecks automatically detect and analyse 15+ common force plate tests.
ForceDecks Force platforms measure force at 1000Hz when a user performs static and dynamic actions.
At the click of a button, the ForceDecks software then provides feedback on key metrics related to muscle performance, injury risk and/or rehabilitation progress. Giving information such as jump height, peak power and force – as well as a range of 'novel' markers of athletic performance, fatigue and rehab progress such as flight time, contraction time, eccentric duration and asymmetries in the take-off and landing phases.
The platforms can also measure performance and asymmetries in static measures of maximum strength such as isometric mid-thigh pull and posterior chain tests.
Specifications
Weight Per Plate- 5 kg
Dimensions Per Plate- 400mm L × 225mm W × 742mm H
Research Documents
Comparing the effects of plyometric and isometric strength training on dynamic and isometric force-time characteristics - Danny Lum
Free Shipping (Over £999)

Free UK mainland delivery is available on orders over £999. Conditions on delivery timescales currently apply.

Hassle-Free Exchanges

You have 14 days, from receipt of cancellable goods, to notify us if you wish to cancel your order or exchange an item.